Let's say you have a document with embedded images that you want to reuse.
Or let's say you're reverse engineering something and want a quick scan over a file for anything interesting.

Whatever the reason, if you want to look at embedded resources within files you may be interested in our


New tool:
Browse and extract embedded images, audio, video or documents within binary files.
When you select a file, the tool will run it through an identification step then start scanning it internally.
Once the process is finished you will be greeted by this page: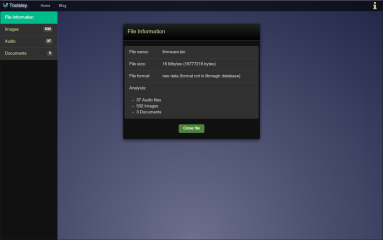 In this case, we've found quite a lot of stuff.
Browsing and extracting the resources is a breeze.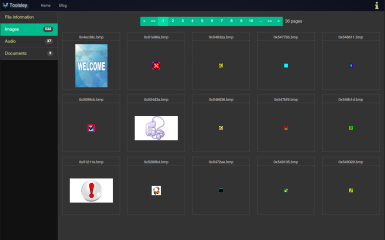 This tool is a long-term project that we'll keep improving over time. Right now it can find a handful of the most common formats:
BMP, JPEG, GIF, PNG for images
MP3, WAVE, MIDI, WMA for audio
AVI, WMV for video
and HTML documents
Check it out
and
let us know
what you'd like to see next!