Cameras and phones automatically embed metadata into photos. More often than not they'll tag the images with their make and model and add the current GPS coordinates by default if they have access to them (geotagging).

Uploading these images to the internet can be a serious privacy concern as demonstrated by the IKnowWhereYourCatLives project.

I Know Where Your Cat Lives is a data experiment that visualizes a sample of 1 million public pics of cats on a world map, locating them by the latitude and longitude coordinates embedded in their metadata.

Ouch!
Kitty may not be bothered by this but maybe you didn't intend to share your address with the world when you posted that picture online.

A quick and simple solution for this is our


New tool:
Remove all metadata like geotagging, camera make&model and so on from JPEGs without affecting image quality.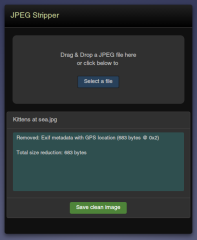 You may be wondering: Wouldn't this basically send YOU my location?
Nope! Like all other tools on this site JPEG Stripper runs in your browser, on your machine, exclusively.
Your data is safe because it's never sent anywhere.
Once you've opened the page you can even disconnect from the internet and use it offline!
This tool currently supports single files.
Let us know
if multiple file support is something you'd like to see
Other updates:
Added an
RSS feed
for this blog.